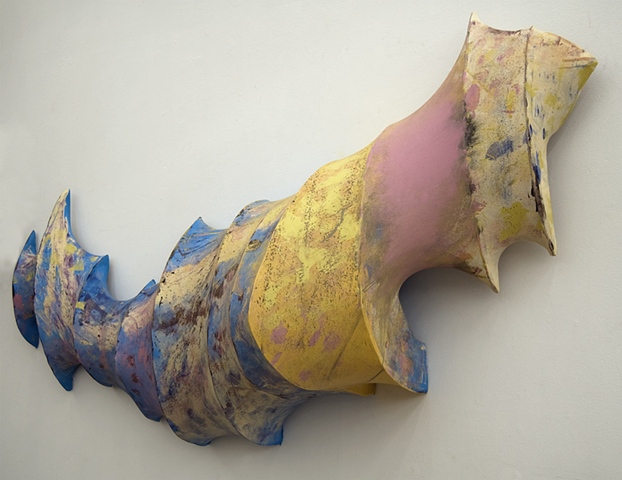 My work deals with the manipulation of form to create an unusual viewing space. A painting is typically canvas on a wall, sometimes serving as a window into an illusionistic space. I manipulate that concept by constructing sculptural wall hangings and painting on their surfaces so that my pieces physically project themselves outward, disrupting the viewer's space and creating an uncertain tension. Crafting feats of illusion while creating sumptuous forms.
My work is grounded in materials and process. I work on more than one piece at a time, usually without concepts for the finished pieces. I stretch the boundaries of my materials and let the materials I have on hand dictate what happens next. My goal is to give my paintings the physical presence of sculptures by matching the reactive process I have when creating the forms with a painted surface that enhances the form as a whole. I work towards creating a hybrid of sculpture and painting.
Reactionary process as conceptual idea combine with my fusion of sculpture and painting to create spatial tensions with the viewer that mimic tensions in the world.